Potential Roles for Probiotics in the Treatment of COVID-19 Patients and Prevention of Complications Associated with Increased Antibiotic Use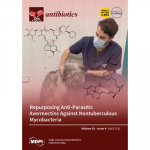 Medical care for patients hospitalized with COVID-19 is an evolving process. Most COVID-19 inpatients (58−95%) received empiric antibiotics to prevent the increased mortality due to ventilator-associated pneumonia and other secondary infections observed in COVID-19 patients.
The expected consequences of increased antibiotic use include antibiotic-associated diarrhea (AAD) and Clostridioides difficile infections (CDI). We reviewed the literature (January 2020-March 2021) to explore strategies to reduce these consequences. Antimicrobial stewardship programs were effective in controlling antibiotic use during past influenza epidemics and have also been shown to reduce healthcare-associated rates of CDI.
Another potential strategy is the use of specific strains of probiotics shown to be effective for the prevention of AAD and CDI prior to the pandemic. During 2020, there was a paucity of published trials using these two strategies in COVID-19 patients, but trials are currently ongoing. A multi-strain probiotic mixture was found to be effective in reducing COVID-19-associated diarrhea in one trial. These strategies are promising but need further evidence from trials in COVID-19 patients.
---
Ravina Kullar, Stuart Johnson, Lynne V McFarland, Ellie J C Goldstein
Antibiotics (Basel). 2021 Apr 9; 10 (4): 408
doi: 10.3390/antibiotics10040408.